I've decided to give out an award to the best sites I find on the web each month, if you have found a site which you believe deserves my SOTM award please nominate it here. Nominating it here will put it in the running but I may also award other sites I find on the net. You can nominate your own site but please specify wether it is yours with the form.
The winner will get a plaque like the one below (with your site name and the date on it):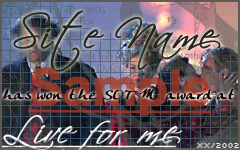 Requirements:
1. Your site must be BtVS or Angel related
2. Must look like your put effort into it
3. Must have something unique about it
4. Please sign the guest book!
5. A link back is not necessary but I might be nicer if there is one.
6. No offensive material
Apply now!
Past Winners:
Arlene's David Boreanaz Page June 2002
I miss my watcher July 2002
Due to school commitments there was no SOTM for August 2002
Dark Society September 2002