Things I've adopted from other sites
Adopt from this site:
All that is needed of you to adopt a character is to really like one particular character, you don't need to own your own website, but I would prefer it. If you do have a site that is not Buffy/Angel related then you can also apply :) . A character can be adopted more than once and I will add you to a list of members when you adopt.
If you adopt and have a site then you must have the banner I send you on your site with a link back to me :)
Also please sign my guestbook, it's looking rather empty
-Boyslayer
This is what your adoptee will look like, with the right character of course :)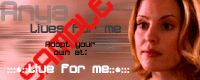 To adopt please use the form below and click submit once you have filled in all your details.
Also please don't forget to put your correct e-mail on it or you will not recieve a character.